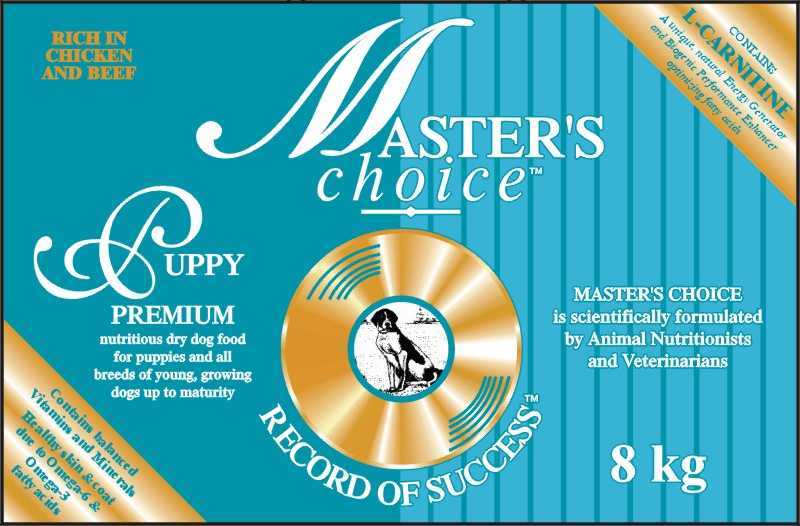 Specially formulated to suit the nutritional needs of small and medium breed growing puppies, adolescents and pregnant and lactating bitches.
Growing dogs need highly digestible food with optimum (not excessive) levels of protein and minerals to ensure controlled growth and proper development of bones and joints. Inferior or incorrectly formulated food, an excessive supply of calcium, too rapid growth and overweight can all contribute to developmental abnormalities and diseases of the skeleton and joints.
AVAILABLE IN: 2KG, 8KG, 20KG Bags
GUARANTEED ANALYSIS (Reg No V15319 Act No 36 of 1947)

Crude Protein

285 g/kg

minimum

L-Carnitine

200 mg/kg

minimum

Moisture

100 g/kg

maximum

Omega-6

20 g/kg

minimum

Crude Fat

100 g/kg

minimum

Omega-3

6 g/kg

minimum

Crude Fibre

24 g/kg

maximum

Calcium

1.1%

maximum

Crude Ash

63 g/kg

maximum

Ca:P ratio

1.3 : 1
Gallery
Puppies on Masterschoice
My name is Fuhrer. I am a pedigree Boxer puppy. I love to eat Masterschoice Active dog food. It is very palatable and nutritious. The high digestibility and L-Carnatine will ensure that I grow well and become a healthy and strong dog that will protect my human family. Watch this space for updates on my progress!